Nicole and Robert's Malibu Beach Elopement was one for the books! Nicole and Robert are from New York but Nicole use to live in Los Angeles years back. She knew that she wanted to revisit and elope back home in Southern California so they decided to fly out here. Their elopement started as a beach elopement but when Nicole told me she was a horse lover and that she "would love nothing more than to have horses included in her day", I suggested she incorporate horses into her elopement. Nicole decided to have the horses in the background during her intimate ceremony which was such a fun idea. To make this happen I coordinated with the staff at High Horse Malibu. The owners and staff went above and beyond. They were amazing to work with and were just as excited as us for this beautiful and personalized vision to happen.
Ceremony Location
High Horse Malibu was the perfect location for their elopement ceremony because they had a cute boho air-stream with a deck and lounge furniture. Nicole was able to change into her dress in the air-stream and have the first look around the corner. Just steps away from the air-stream Robert saw Nicole for the first time in her stunning strapless lace mermaid elopement dress. I zipped her up! Let me tell when she walked out of that air-stream towards Robert for the first time jaws dropped, including mine she looked gorgeous, it was the perfect reveal!
Marriage License
The great thing about California is that your marriage license is valid in every state so whether you did your paperwork in New York or California it's valid no matter what! Having a New York marriage license was important to Robert so they had their paperwork done in New York.
Before coming out to Malibu to elope, Nicole and Robert decided to have a small ceremony with their close family. Many couples are pressed with the dilemma of having a "just us" elopement or having an elopement that includes family. This is because most of the time family, especially parents want to witness and share the beautiful moment of the elopement ceremony. So Nicole and Robert decided to have a small intimate ceremony before coming out to Malibu. By doing this their parents and siblings were able to attend in them legally getting married in New York. Then Nicole and Robert flew out to Malibu and were able to have the "just us" experience among the hilltops of Malibu while exchanging their vows and rings symbolically with majestic horses in the background. Who says you can't have the best of both worlds?
First Dance and Portraits
After Nicole and Robert exchanged vows and rings during their intimate ceremony they had their first dance. When photographing elopements I always make sure to bring along my blue-tooth speaker to make certain the first dance happens. What's an elopement without a first dance am I right? After the first dance, we took some gorgeous portraits with the horses. These are my favorite photos because you can see how happy and overjoyed Nicole was having the horses in the portraits with her. Nicole has been riding horses her whole life so it was like a dream come true, especially since having an elopement like theirs is not possible in New York. Finding owners that have companies that offer horse riding and this type of experience is difficult to find in many areas.
After portraits, we celebrated with champagne and their favorite type of cake: strawberry vanilla. We then headed down to Malibu beach for some breathtaking sunset portraits. Beach sunset portraits are my absolute favorite because they make the perfect backdrop and as the sun sets each photo is a little different from the next, they make for some unforgettable wedding and elopement photos.
Nicole and Robert's Malibu beach elopement was seriously such a fun elopement for me to plan! I love when my clients add a personal touch to their wedding or elopement day it really makes it so much more special. When I asked what Nicole and Robert's top reason to elope was they said, "We wanted to experience a totally intimate wedding experience." I'm so happy I was able to provide them with just that!
If you loved this Intimate Malibu beach elopement and are looking for a Malibu photographer, get in touch with me to start!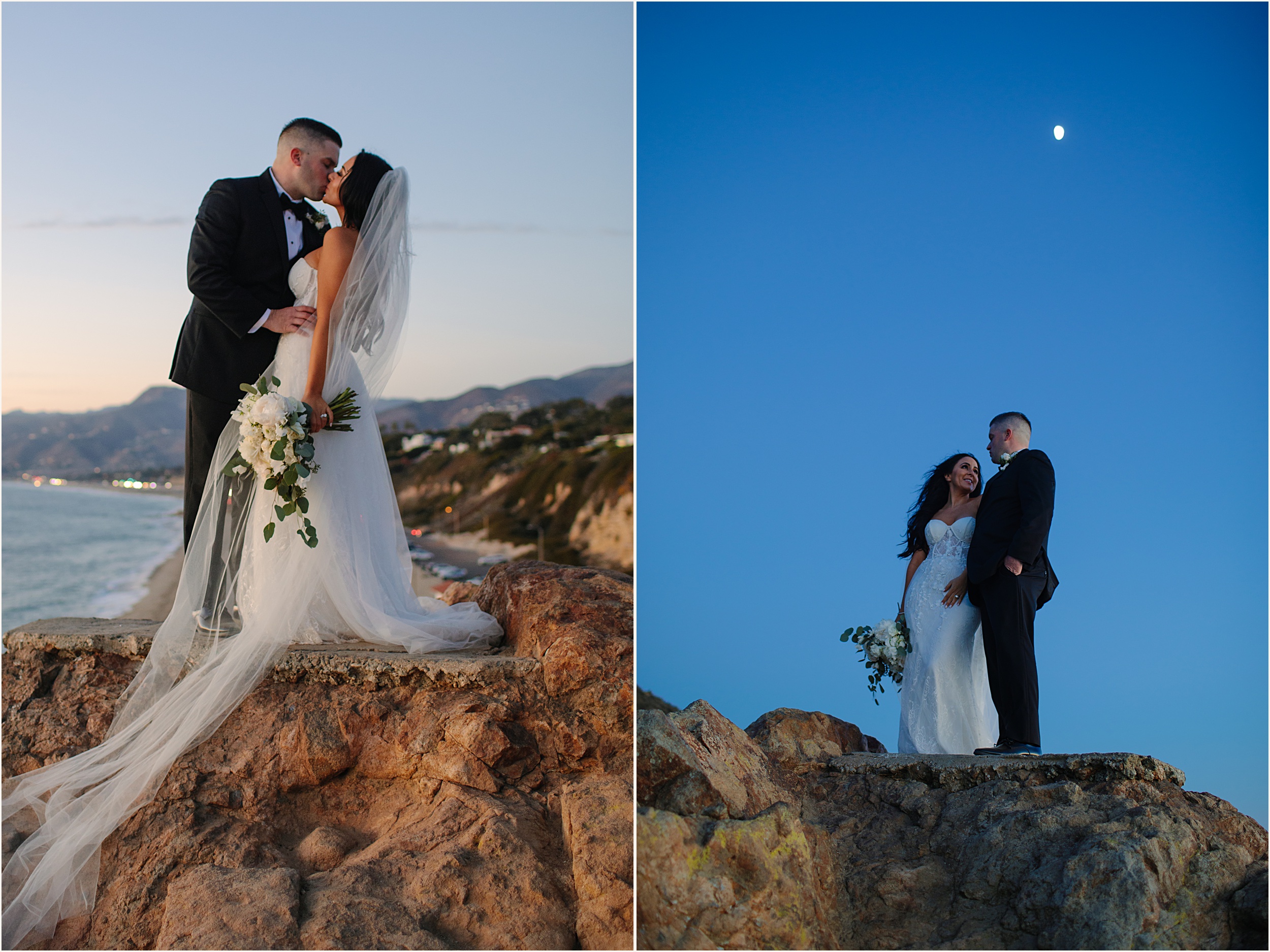 Ceremony Location: Malibu High Horse
Hair & Makeup: Jacki Makeup
Flowers: Lucky Wild Free
Hotel: Malibu Beach Inn
Wedding Night Dinner Reservation: Geoffrey's