The Road to Glacier Point will open late spring 2023 with half-hour delays.
Yosemite National Park may be one of my favorite places to take couples and capture their elopements! Yosemite National Park is one of the most stunning locations for an elopement wedding here in California. With its breathtaking cliffside views, lush forests, epic waterfalls, glistening lakes, and magnificent meadows you'll surely find the perfect Yosemite wedding location for you! Whether you are looking to elope with a waterfall cascading down in the background of your wedding ceremony or tie the knot while being surrounded by towering redwoods it will be unforgettable!
Couples who are looking to elope in the great outdoors of Yosemite National Park know that Yosemite offers a variety of locations for elopements and intimate weddings, so this is my official guide on the best outdoor Yosemite wedding locations for your 2023 elopement!
Yosemite Wedding Locations
Keep in mind that, wedding ceremony locations in Yosemite are first-come, first-serve. This means that when you have chosen your location you'll only have two hours there. BUT if your preferred location is unavailable, as stated in your application, you'll be contacted and offered the chance to pick a different space!
One thing I always like to tell my eloping couples is that if you have fewer people in your guest count, (11 or fewer), you'll have more ceremony locations to choose from because you are not restricted to the folowing approved ceremony locations listed by the park with exception of open meadows and riparian environments.
One of the many reasons why having a Yosemite elopement is so incredible is that there are endless possibilities for wedding and elopement locations to choose from!
One of the great things about Lower Yosemite Fall Trail is that it's available ALL year! Lower Yosemite Fall Paved Trail is a beautiful and easily accessible place, ideal for couples who may not be able or want to trek too far into the park. But still want to experience a glorious Yosemite water feature. Lower Yosemite Fall Trail has limited parking and also a shuttle service. But this location allows groups of up to 50 and they have two long benches available, as well as other facilities at the ceremony site. The view of Upper Yosemite Falls is spectacular
Maximum Guests – 50
Open All Year
Heavily Trafficked
Best Time of Day – Early Morning
Parking at Site
Bathrooms at Site
Handicap Accessible
Cascades Picnic Area is also open all year, and marriages can be held inside the approved picnic area, at least 6 feet from the water's edge! If you decide to have a spring elopement you'll see streams of water from melted snow thunder over a precipice from the Cascades waterfall! Just picture eloping while listening to the water of the Cascades and the Merced River, what's better than that? Keep in mind that the parking here is restricted to only 8 cars, so if you have a large group, try to meet up before and carpool to the site as this location also allows groups of up to 50 people! There are restrooms and picnic tables nearby, making this an ideal place for a low-fuss ceremony and picnic reception with loved ones.
Maximum Guests – 50
Open Year Round
Moderately Trafficked
Best Time of Day – Mornings and Afternoons
Parking at Site
Bathrooms at Site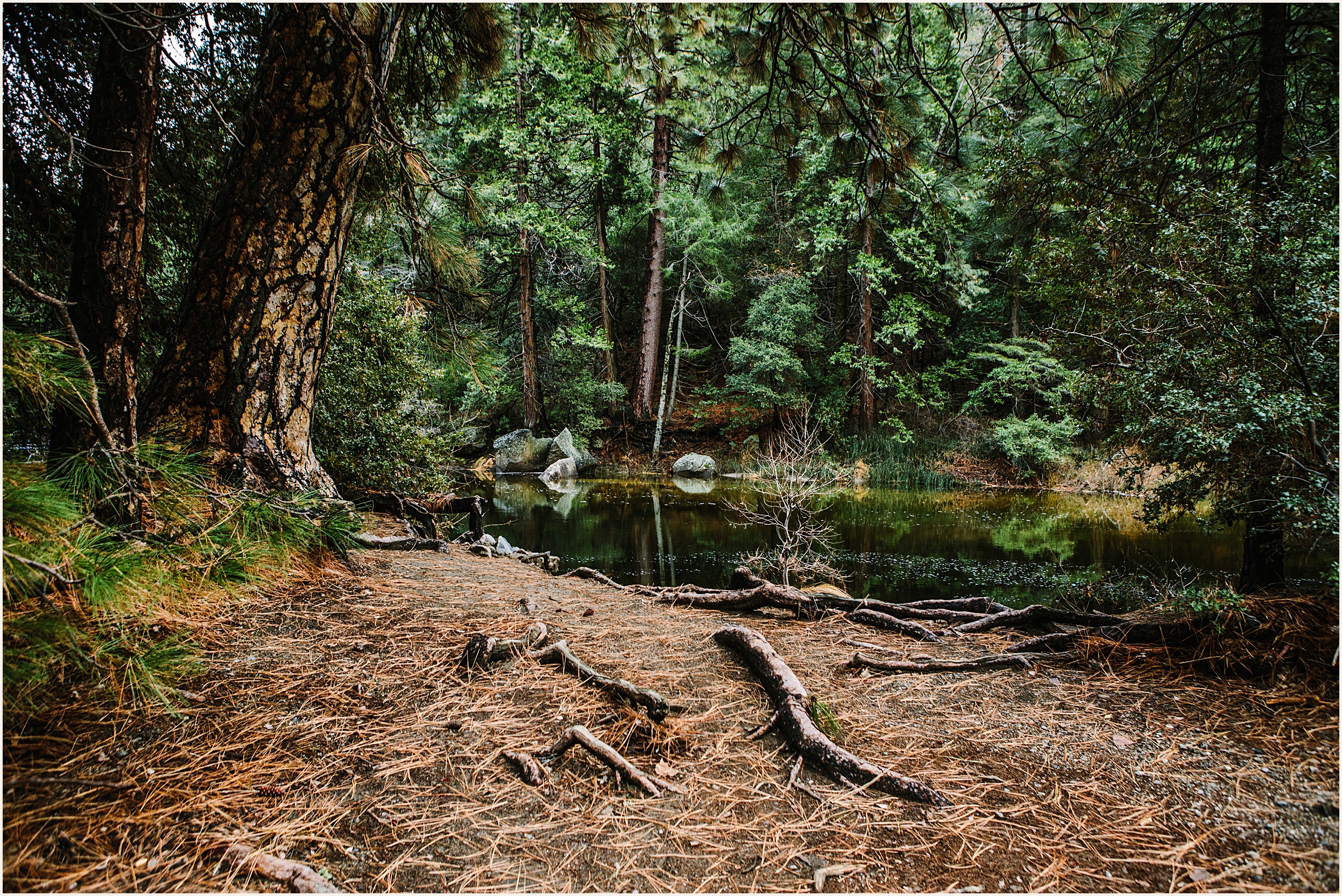 Cathedral Beach Picnic is my favorite designated ceremony location! The views of El Capitan are stunning from this beach! It's perfect for an elopement ceremony and for an intimate wedding of 35-50 people and for those who don't want to hike or trek to their location! The only downside is that they are not handicap accessible and are closed from November through Memorial Day Weekend. From Tuesday after Memorial Day through October 31st, the location closes at dusk.
Maximum Guests – 50
Closed Oct. 31st to the Tuesday after Memorial Day
Moderately Trafficked
Best Time of Day – Early Morning, Late Afternoon
Parking at Site
Bathrooms at Site
Not Handicap Accessible
Bridalveil Fall is a stunning Yosemite wedding location if you are wanting to get up close and personal with this windswept waterfall! This is often the first waterfall you'll see when entering Yosemite Valley. The trail to Bridalveil Fall is open year-round and the fun thing about the fall is during the winter time, spring and early summer the water flow is at its peak! Sometime around July, the waterfall completely dries up. It's also not too hard to get to, when you leave the parking lot you can take the paved path straight until you are beyond the second stone bridge. Bridalveil Fall lies at the forest clearing on your right where the fall comes into view! The view of the waterfall from the approved ceremony site is impressive, but the only downside to this ceremony location is that it's right along the main paved trail so you will run the risk of not having very much privacy during your ceremony.
This Yosemite wedding location's view is like no other! This site is wheelchair accessible and located on a beautiful beach just north of the bridge. There are facilities nearby, limited parking and this site is open all year-round. Swinging bridge is a gorgeous location and perfect for couples who want an intimate, yet accessible ceremony spot. You also get a glimpse of Yosemite Falls and its reflection in the Merced River during the day or by the full moon at night!
Maximum Guests – 20
Open year Round (You'll see the falls between November to July)
Heavily Trafficked
Best Time of Day – Early mornings
Parking at Site
Bathrooms at Site
Handicap Accessible
Sentinel Beach Picnic Area is one you won't forget! This location showcases views of Sentinel Rock and Upper Yosemite Falls. The surrounding cliff faces will leave you awestruck because of the proximity to the beach. This location is also wheelchair accessible but closed from November through to Memorial Day Weekend. If you're planning on tying the knot on the beach, be aware that it closes at dusk during the open season. There are facilities and limited parking, but this location is one of the few that allows a large number of guests, 100 people maximum.
Maximum Guests – 100
Closed November Through Memorial Day Weekend
Moderately Trafficked
Best Time of Day – Early Morning, Lake Afternoon
Parking at Site
Bathrooms at Site
Handicap Accessible

Wedding Ceremony Locations in Wawona
This place is a breathtaking overlook with an entire view of Yosemite Valley, Half Dome, Yosemite Falls, and Yosemite's high country! Glacier Point is a wheelchair-accessible site and is available for use from the Tuesday after Memorial Day, until September 30th due to road closures in the area outside these times. But if you can schedule it right, you'll get to experience this incredible amphitheater, with incredible views of the mountains in the background. There are plenty of seating options available for guests, who won't be able to believe their eyes when they see where you're eloping to in Yosemite!
Maximum Guests – 50
Open the Tuesday after Memorial Day Weekend through September 30th
Weddings are not scheduled here in July and August
Seating Available
Heavily Trafficked
Best Time of Day – Sunrise/Early Morning
Parking at Site
Bathrooms at Site
Handicap Accessible
Gift Shop and Small Market on Site
This falls is a magnificent location with an impressive waterfall that cascades over enormous weathered stones into a lovely pool below. Chilnualna flows all year with peak flow in May. This trailhead can only accommodate 10 vehicles, therefore carpooling is advised. The location is somewhat downhill from the parking lot, close to a huge private house, and can be a tough hike for some but very much worth it for its unforgettable views of the walls and Wawona Dome! 
Maximum Guests – 50
Minimal Trafficked
Best Time of Day – Mornings
Parking at Site
Wedding Ceremony Locations in Tuolumne
During the high-elevation storms in Tuolumne, the spots below are only available during the warmer months. Although, both locations have gorgeous mountain views and are incredible if you decide to have an early morning wedding ceremony! It's no secret that Yosemite Valley and Glacier Point Road can become very crowded in the summer time, so instead of completely ruling out Yosemite, please consider having your elopement in the Tuolumne area of the park. This area is not nearly as heavily trafficked as the Valley. However, Tioga Road is closed from late fall to early spring due to its high elevation and snow storms through out the winter.
Tenaya Lake Beach is a magnificent high-country lake surrounded by unbelievable granite domes, lodgepole forests and Yosemite's vast wilderness. This beach location is open from the time the road opens in late Spring to the end of September. It is a lovely and peaceful area by the lake shore, with snow-capped mountains on the horizon, and a wonderful clearing of trees flanking the ceremony spot. I adore this area and it's definitely an underrated part of Yosemite National Park! If you are wanting to elope in the summertime, seriously consider a ceremony spot in Tuolumne. There are so few tourists that venture to this area!
Maximum Guests – 50
Available from the time the road opens in early spring until September 30th
Minimal Trafficked
Best Time of Day – All Day
Parking at Site
This is the perfect place to settle in after having a hiking elopement in Yosemite or before! Tuolumne Meadows is also open until late September but is upstream from the lodge. There's an easy dirt path you can take toward the river which will guide you to this location. But beware, there is very limited parking available and so carpooling is a necessity.
This trek to a sequoia forest is simply breathtaking! Marvel at nearly two dozen giant towering sequoias. If you plan to tie the knot from October through to June, be aware there may be snow on the ground. But if that winter look is what you're searching for, you're free to visit this site all year round. Although, unfortunately, you are not to stand within the sequoia grove itself.
Maximum Guests – 30
Available from the time the road opens in early spring until September 30th
Moderatly Trafficked
Best Time of Day – All Day
Parking Two Miles From The Grove
Merced Grove is home to about 20 giant sequoias and is accessible by foot! This trek will take you through a dense forest of tall sequoia trees that you will be in awe over! It is beautiful all year, but from October to June, you may find yourself hiking through snow, and you must always stay on the route.
Maximum Guests – 30
Available from the time the road opens in early spring until September 30th
Minimally Trafficked
Best Time of Day – All Day
Parking Two Miles From The Grove
Secret locations
Aside from the above-listed locations that you are confinded to if you have more than 11 guests, there are a plethora of "secret" locations that are even as amazing for elopement couples too! I can't stress enough to have fewer than 11 guests! You will have so many more options for your ceremony location such as Sentinel Dome, Olmstead Point, Taft Point and a number of lakes! The best thing about booking an elopement photographer who is also an elopement guide who is wanting to guide you through this process is that we know the best and secret locations for your elopement all off the obvious choices, some requiring hiking, backpacking, and of course adventuring!

Now that you know all the best Yosemite wedding locations for your wedding or elopement, check out my blog on how to elope in Yosemite to help you get started on your elopement planning! And when you're ready to book a Southern California elopement photographer reach out to me through my contact page!