Best Time of Year To Elope In Yosemite
Eloping to Glacier Point in Yosemite National Park during the summer months is an enchanting choice for couples seeking to exchange vows amidst the breathtaking beauty of nature. With its iconic landscapes, majestic waterfalls, and serene meadows, Yosemite offers an unparalleled backdrop for an intimate celebration of love. Among the park's most awe-inspiring locations, Glacier Point Amphitheater sets the stage for an unforgettable sunrise ceremony, while a romantic sunset hike captures the essence of your eternal bond.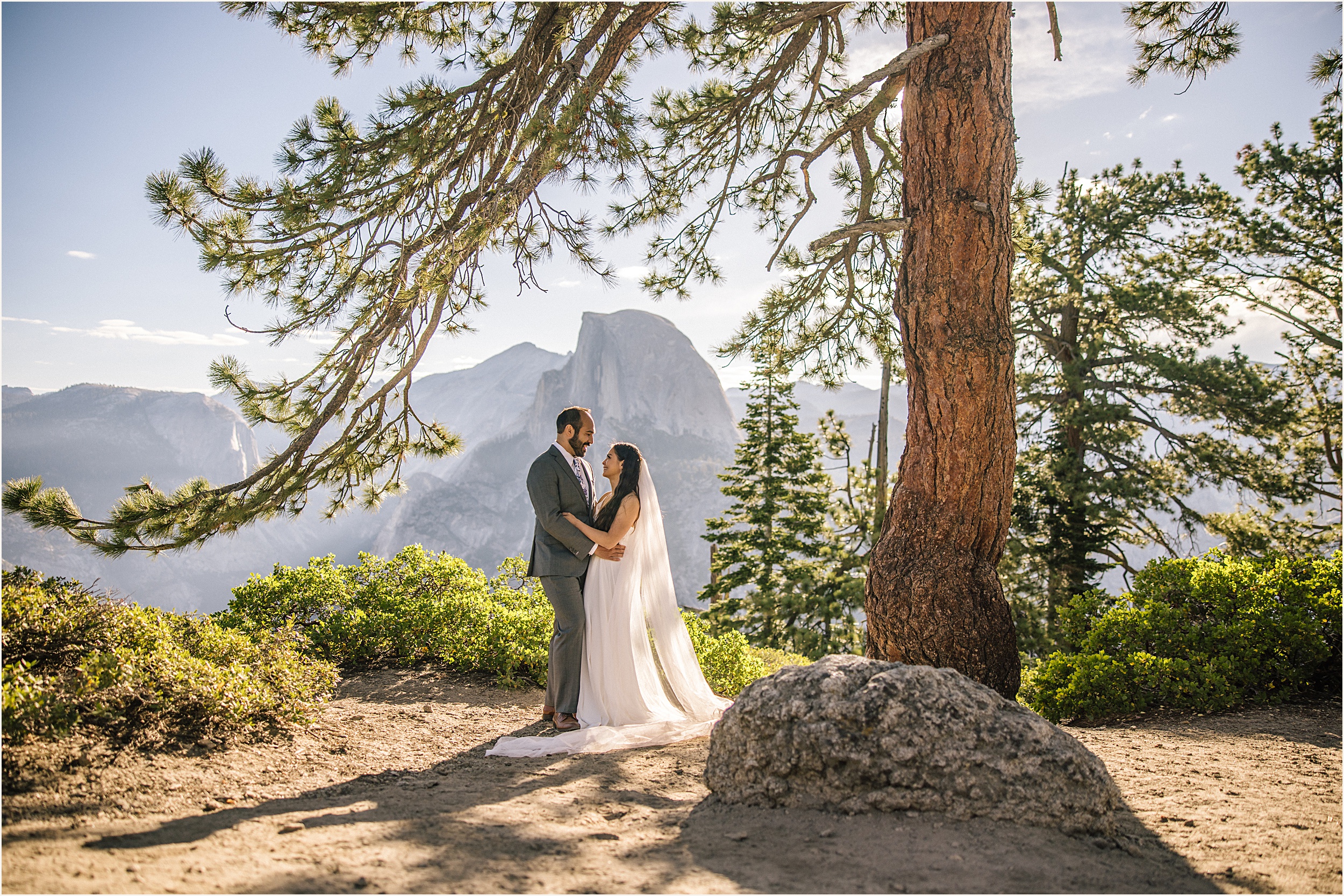 Sunrise Ceremony at Glacier Point Amphitheater
Imagine the first rays of the sun painting the sky with hues of gold, as you and your partner stand hand in hand at Glacier Point Amphitheater. With the dramatic panorama of Yosemite Valley unfolding before you, the moment becomes truly magical. As the warmth of the rising sun envelops you, your heartfelt vows are carried away by the gentle breeze. The Glacier Point Amphitheater, perched at an elevation of 7,214 feet, offers breathtaking views of Half Dome and Nevada Falls. There's also a sense of seclusion in the early morning hours, making it the perfect place for an intimate ceremony. The soft glow of the morning sun adds a touch of ethereal beauty to your union. And your love story becomes forever intertwined with the grandeur of Yosemite.
How to Hike With Your Wedding Elopement Dress
Packing your cherished wedding dress (and suite) for an elopement hike requires careful consideration to ensure it arrives in wrinkle-free condition for your special day amidst nature's beauty. Start by selecting a garment bag or protective cover to shield your dress from dust and moisture. Gently fold your dress to prevent wrinkles and creases. Use carabiners to fasten the hangers to the straps of the backpack. Opt for lightweight, breathable fabrics that won't trap heat. Choose a dress with a simpler design that's easier to manage on the trail. Don't forget to pack your wedding shoes into your backpack! Upon reaching your destination, gently unfold and fluff your dress, allowing any wrinkles to naturally ease out. With thoughtful preparation, your wedding dress will be ready to grace the mountain landscapes and become a radiant part of your elopement adventure.
Sunset Hike and Romantic Photos
As the day gently transitions into the evening, embark on a romantic sunset hike that will etch memories into your hearts. Yosemite's network of trails leads you through pristine wilderness, enveloping you in nature's embrace. With each step, you and your partner draw closer to the mesmerizing vistas that await you. The golden hour's soft, warm light casts a spell over the landscape, creating an ideal setting for capturing candid and intimate moments. As the sun sinks below the horizon, the sky ignites in a symphony of colors, providing a breathtaking backdrop for your romantic bride and groom photos. Your love shines through in each frame, a testament to the profound connection you share.
Best Places to Elope In California
Eloping to Yosemite National Park in the summer is a dream come true for couples seeking an intimate, nature-infused celebration. The Glacier Point Amphitheater's sunrise ceremony offers a unique and awe-inspiring experience. And an adventurous sunset hike provides an opportunity to immerse yourselves in Yosemite's enchanting beauty. These moments, captured by me, Jennifer Whalen Photography, will serve as a lasting testament to your love story – a tale of two souls united in the heart of one of nature's most wondrous creations. Embrace the beauty, serenity, and eternal love that Yosemite National Park graciously bestows upon those who seek its embrace.
View my Yosemite Elopement Packages!
Keep scrolling to view more photos from this epic day!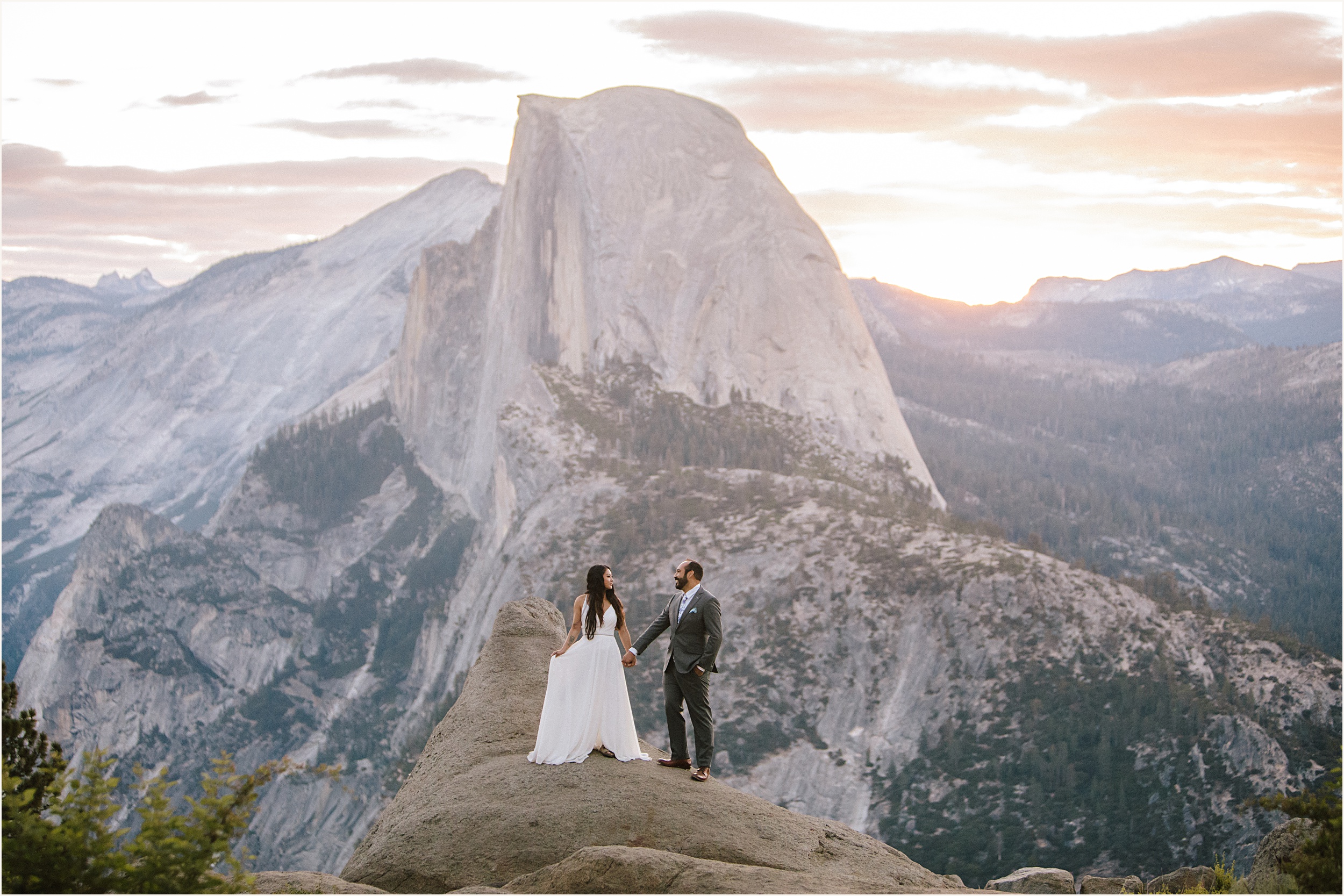 Ready to start your adventurous elopement in Yosemite!?