If you're looking to elope somewhere with stunning panoramic views then a Death Valley elopement is a must! Don't be afraid of the name as it's far from the unpleasantness that the word "death" gives. This national park is so underrated as its one of the most unique and gorgeous desert locations in California!
With its vast desert landscape, rugged mountains, and colorful rock formations, it's the perfect backdrop for an unforgettable elopement! As a California adventure elopement photographer, I've written this blog to help you plan and know everything you need to about having a Death Valley elopement from getting marriage permits, to the best elopement locations, travel accommodations, and elopement activities.
Getting Marriage Permits
Getting your marriage permit for Death Valley is fairly easy! To get married in Death Valley National Park, you'll need to obtain a special use permit from the park. The cost of the permit is $120 and it must be obtained at least two weeks prior to your elopement date. You can apply for the permit online or by mail!
Best Locations to Elope in Death Valley
Death Valley has some of the most breathtaking views in the world including the best locations to elope at. Here are some of the best locations to elope in Death Valley:
Artist Palette is one location in Death Valley that will leave you in awe! This colorful area is known for its vibrant rock formations that look like an artist's palette, hence the name. If you're looking for a jaw-dropping elopement location and intimate romantic ceremony then Artist Palette may be the elopement location for you!
Zabriskie Point is a viewpoint that offers stunning views of the valley below and is a very popular spot for elopements here in Death Valley! If youre not a fan of long hikes then this elopement location is perfect as it's only a 0.4 roundtrip walk through beautiful desert terrain!
Mesquite Flat Sand Dunes are accessible rolling sand dunes perfect for couples who want an adventurous elopement experience! Imagine eloping with panoramic views of sand dunes as well as epic views of the valley.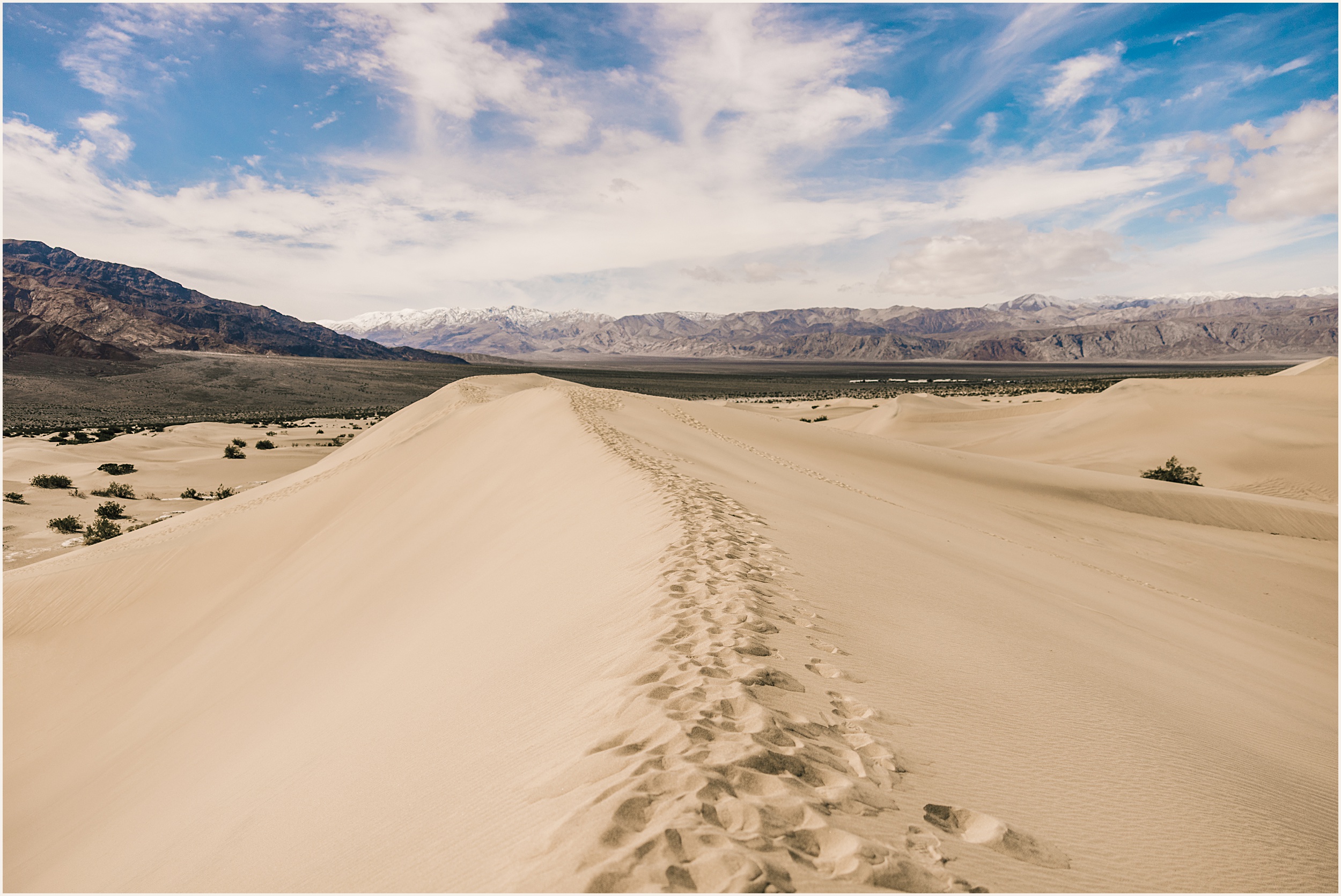 Badwater Basin Salt Flats is a trail that takes you through a surreal landscape of salt flats! If youve ever dreamt of eloping on salt flats then I'd highly recommend having Badwater Basin Salt Flats be your Death Valley elopement location. This trail is a short 1.9-mile round trip hike with mountainous views perfect for a more simple backdrop.
Dante's View Trail takes you up to an overlook with panoramic views of Death Valley in just a 1-mile roundtrip hike. It's a great spot for sunset ceremonies and will leave you in awe of the inspiring views of the park.
Accommodations
There are several accommodation options available in Death Valley National Park, including hotels, Airbnb's, and campsites. Some popular hotel options include The Inn at Death Valley, The Oasis at Death Valley, Stovepipe Wells Village Hotel, and Panamint Springs Resort. There are also several Airbnb options available throughout the park such as Death Valley Castle, Peaceful Cabin Retreat, Death Valley House of Desert Gold, Designed to Death, and Modern Desert Home. And if you're into roughing it out under the stars consider camping out here in Death Valley!
Elopement Activities
After you have your Death Valley elopement you can't forget about all the elopement activities that are available at this stunning location! From numerous hiking trails throughout the park that offer stunning views and plenty of opportunities for adventure to stargazing. With its dark night skies, Death Valley is one of the best places in the world for stargazing! Pack a picnic dinner and enjoy a romantic evening under the stars.
Last but not least, exploring! There's so much to see in Death Valley so take some time to explore all that Death Valley has to offer! Visit ghost towns, take scenic drives through canyons, or explore abandoned mines – there's something here for everyone!
Eloping in Death Valley National Park is sure to be an unforgettable experience! With its stunning landscapes and endless activities, it's the perfect place to start your new life together as husband and wife!
I hope this blog on how to have a Death Valley Elopement has helped you plan your special day! Check out Jennifer Whalen Weddings packages and pricing on her website to book her as your adventure elopement photographer and see more of her work here!