Yong Jung and Tim came all the way from the east coast for their Joshua Tree engagement session! They wanted to do one last road trip before they got busy with wedding planning and before Yong Jung started grad school so choosing their engagement session in Joshua Tree was an excellent idea. Not only that but, they really loved the starry night photos from Michelle and Michael's Joshua Tree elopement session, so we had to make that happen!
Starry Night Photos
Since their session was in March, the milky way galaxy was not visible, like it was for Michelle and Michael's elopement. The milky way galaxy is only visible in the summer on very specific days in Joshua Tree. But on a clear night, capturing the stars in Joshua Tree National Park is very doable!
Weather
Yong Jung and Tim's Joshua Tree engagement session was originally scheduled for a Thursday, but unfortunately, Thursday had a forecast of cloud cover which would not have been ideal for the starry night photos. It's almost impossible to capture the stars during weather like that so we switched it last minute to Wednesday and it turned out incredible!
One of the many things that come up when planning photoshoots is an unexpected change of events especially when it comes down to the weather. I love when my clients are able to go with the flow and are flexible with changing dates if need be. It's always possible that something may come up and we may need to change plans so it's best to keep an open mind and not have your heart set on a certain day!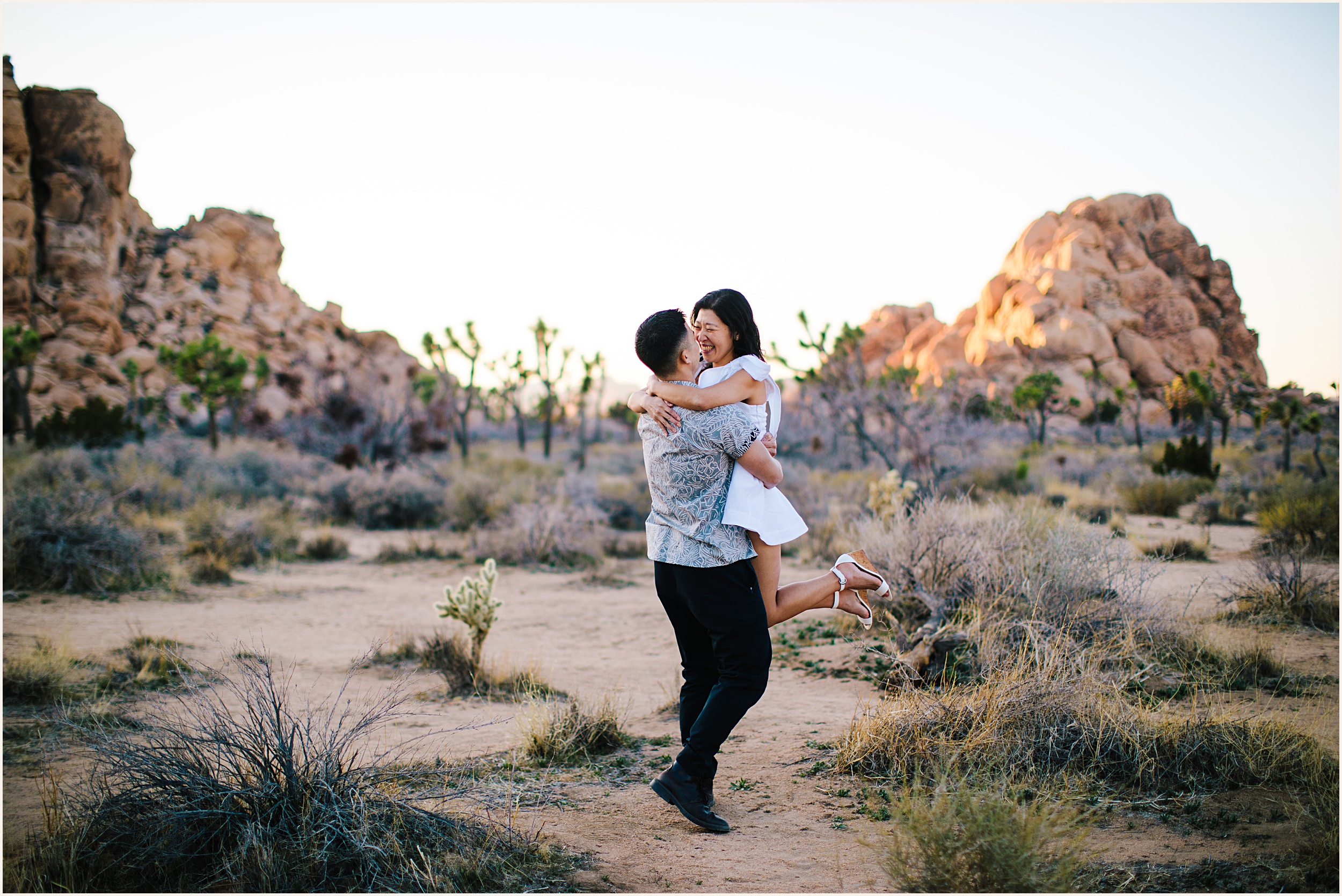 Capturing unique photos like this is such a rush and a fun challenge! I used two strobe lights to pull this off. You have to be very patient with starry night photos like these! Each exposure is 30 seconds long, so I always tell my couples to stay VERY still while I take them!
I can't wait to do more starry night Joshua Tree engagement sessions like this as well as elopements! It's the most magical place to do them!
Intrigued by this beautiful starry night Joshua Tree engagement session and want one of your own? Get in touch with me to start!