Big Sur is one of my favorite locations to shoot elopements at! I know the area well. It's by far one of the most beautiful and iconic sites in California, I can guarantee it will take your breath away!
Big Sur stretches over 145 kilometers along the Californian coast between San Francisco and Los Angeles and spreads 32 kilometers into the country, with so much natural beauty surrounding it. From towering redwoods to sandy beaches of the Pacific ocean. I don't think I'll ever get tired of visiting!
And neither has John! Both John and Alice are from the Bay Area but John has been to Big Sur before and from that point on he knew this was going to be their elopement location! Alice and John wanted to explore all the locations in Big Sur and maximize their time here as well as keep their day intimate with zero guests!
This made me excited to hear because I truly love exploring Big Sur and its natural surroundings! Since Big Sur is HUGE and it takes time to drive around, I only offer my 8-hour package because any fewer hours won't cut it. Especially if couples want the variety of backgrounds and landscapes that Big Sur has to offer.
Big Sur Elopement Itinerary
As a Big Sur elopement photographer, I make a schedule and layout of the day so that we can maximize the route and locations. Big Sur is such a diverse place and there's so much to see, so I try to schedule as much as we can fit in one day!
Alice and Johns's Big Sur elopement day was during the week, which is always a plus as there isn't as much foot traffic and people around, it provides the couple with an even more intimate, "Just us" day.
Garrapata State Park Elopement Ceremony
We started in the early afternoon when the water looks the bluest, at Garrapta State Park for the ceremony. Alice and John exchanged their vows while the water crashed on the side of the cliff and the ocean breeze flowed through their hair, it was so serene!
We then headed to the cliffsides to take a few portraits and hiked up to the top of Sobrenanes Point. Soberanes Point is near the middle of oceanfront property in Garrapata State Park with breathtaking views of the beach and oceanside.
Beach Portraits and Picnic
Towards the end of the day, we headed to the beach to have a romantic picnic where Alice and John popped Champagne and toasted to their promise to one another, ate their favorite tarts, and read cards from their family members. It was so touching! Reading cards and letters from family members is a fun way to incorporate people into your elopement when it's just the two of you!
To end the night we headed to Bixby bridge to watch the sunset, one of the locations Alice said she loved and was excited to shoot at. Bixby Bridge is definitely unforgettable with its incredible views of Big Sur's rocky coastline, especially during sunset but be careful as it can be very windy!
One of my favorite things about Alice and John was that they too love photography so they had a willingness to do what it takes to get the shot and fully trusted my photography vision! Even though at one point the wind was so strong I thought we could get blown off the side of the cliff BUT that didn't faze Alice and John. They still persevered in order to get the photos. I loved that!
Working with Alice and John was so refreshing and fun as I love being able to capture the moments, big and small, quirky and classic when photographing elopements.
If your looking for a Big Sur elopement photographer who is passionate and excited to capture your special day look no further!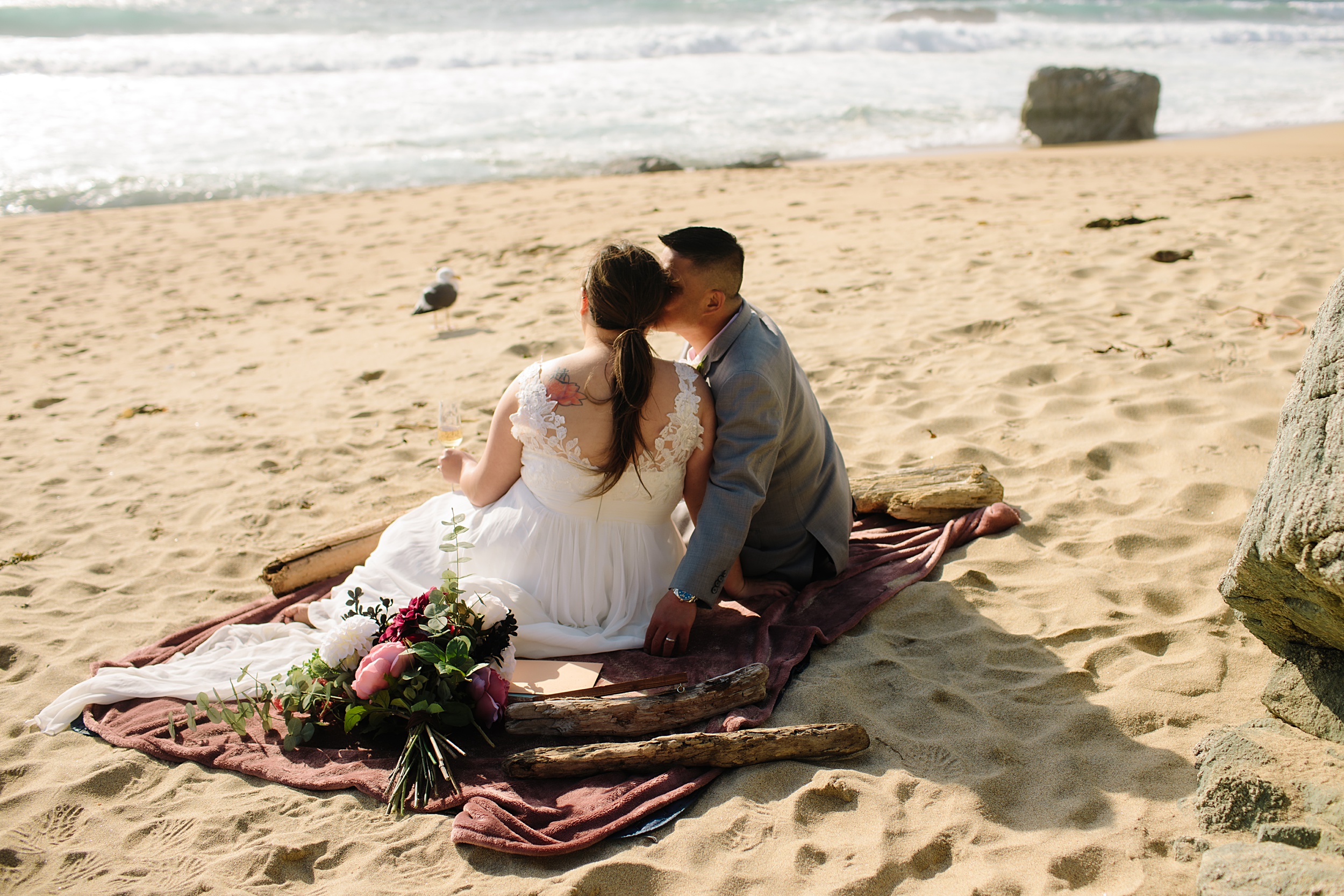 To see more inspiration, check out these other Big Sur Elopements:
Rebecca & Tyler's Ceremony in the Redwoods of Big Sur
Judy & Justin's Forest Ceremony, Pizza Break, & Pfeiffer Beach Sunset Portraits
To learn How To Elope In Big Sur, check out my Free Guide!