The Eastern Sierras and Mammoth Lakes is a part of California that flies under the radar in terms of national and international recognition for popular places to elope, but I hope that I can inspire more couples to elope here! So I've written up a Mammoth lakes elopement guide to give you what you need to have an incredible Eastern Sierras and Mammoth Lakes elopement!
Mammoth Lakes Elopement Location
The Eastern Sierras and Mammoth Lake is the eastern side of Yosemite National Park and is full of Turquoise-colored alpine lakes with mountain views, acres upon acres of remote pine forests, and many breathtaking waterfalls. The best part about Mammoth Lakes is since it's such a hidden gem, it's not crowded with tourists! If you love the idea of eloping in Yosemite but are worried about the crowds, the Eastern Sierras and Mammoth Lakes can be a wonderful and more secluded place to elope!
As a Yosemite and Lake Tahoe elopement photographer, I hear a lot of worries from my couples about how it's super crowded, especially during the summertime. The Eastern Sierras is not as well known and therefore, not as many tourists know about it. You can get there by driving or by airplane. There's Yosemite/Mammoth regional airport and car rentals right outside of Mammoth Lakes.
Where to have your Elopement Ceremony
What's so great about the Eastern Sierra is that they are ecologically diverse! Can't decide between a desert elopement or forest elopement? Why not have both? At the Eastern Sierras, every season has its own beauty and options to choose from! The Eastern Sierras has vast mountain landscapes and alpine trees for the forest elopement of your dreams. As well as a desert aesthetic like you would have in Joshua Tree from all the rocky mountains.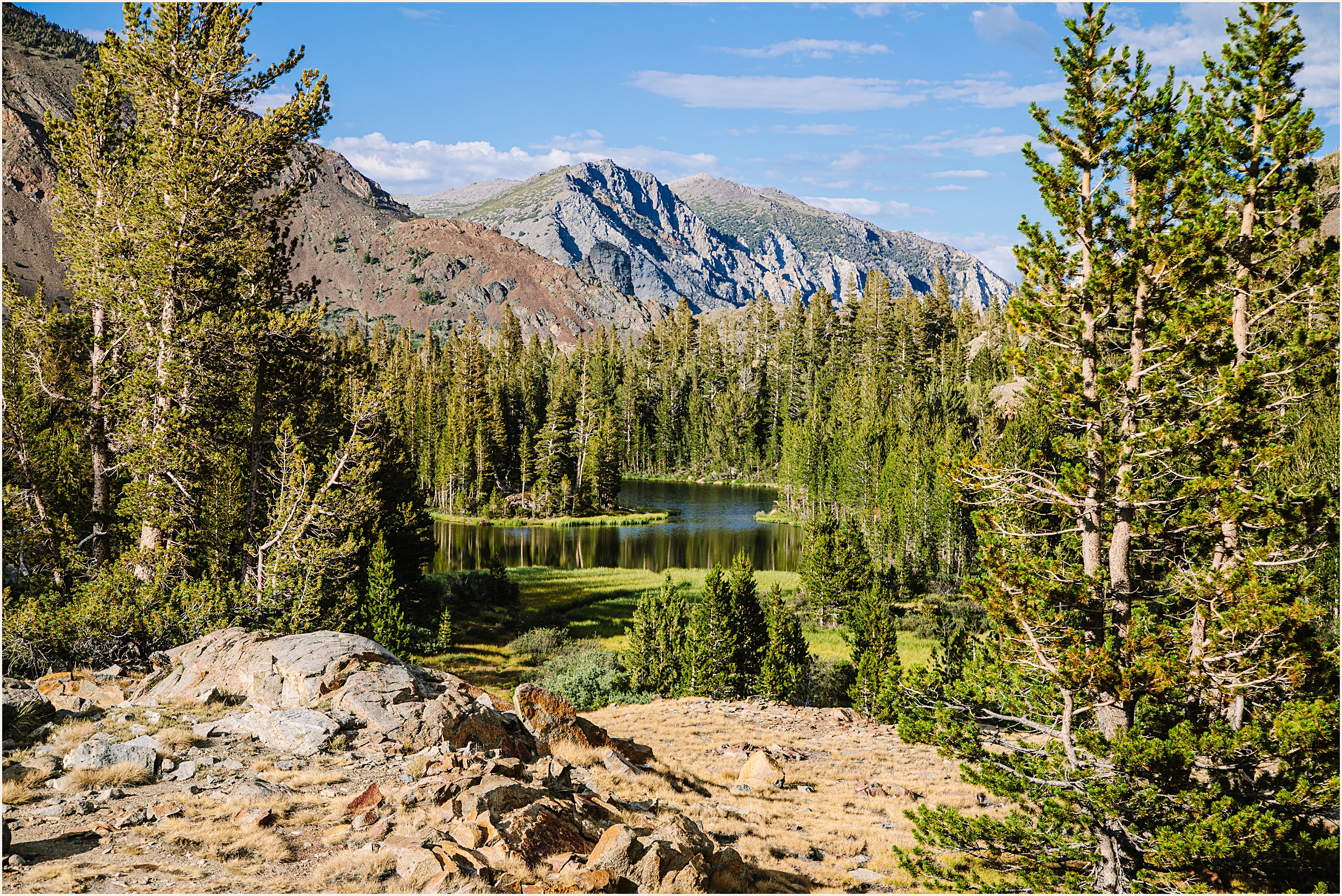 But where can you elope in Mammoth Lakes and the Eastern Sierras? This depends on the type of views and vibe you are going for, but you will undoubtedly like any spot you choose!
Just a couple of minutes from the town of Mammoth Lakes is Lake Mary a gorgeous lake perfect for sunset portraits. You can even kayak and paddle board on the lake which is perfect for adventurous couples! (Check out this blog where we kayaked on Catalina Island for their elopement).
Want to get married on a mountain? Mammoth Mountain is a popular skiing and snowboarding spot 11,000 feet high!
Another beautiful lake here in the Eastern Sierras is Convict Lake. Convict Lake is a Turquoise-colored lake surrounded by towering mountains. Imagine eloping on the edge of a stunning lake that looks like a plate of glass, with the reflection of mountain views.
What's better than mother nature as your ceremony background?
Where To Stay in Mammoth Lakes
What I love most about Mammoth Lakes other than the astounding scenery is the fact that they offer a wide range of places to stay for every vacation experience and any season, from luxury hotels, cozy cabins, condos, motels, and more. Mammoth lakes are known for its skiing and snowboarding as it's a popular ski resort so you have plenty of options to choose from!
To help you choose a place to stay check out Visit Mammoth's recommendations.
Things to do in Mammoth Lakes
It doesn't stop there! If you are adventurous and planning on exploring the area after your elopement you'll love the hikes surrounding the area! You can visit Rainbow or Horsetail falls, hike to the volcanic craters, or check out the earthquake fault.
Not only that but, there are a plethora of activities to do in the area from ATV riding, tons of mountain bike trails, fishing, and boating. You can also rent pontoons, paddle boards, and kayaks which are all available at certain lakes.
Are you hooked yet? This is just a small snippet of what it would look to have an Eastern Sierras and Mammoth Lake elopement. If you're convinced that this is the place for you and ready to plan your Mammoth Lake elopement check out my elopement packages to see what would work best for you!
Get in touch below, as I would love to help you plan your elopement!