We know planning your special day can be overwhelming, but don't worry. If you're looking for the perfect California elopement packages, you've come to the right place. I've compiled a list of the best Northern California elopement locations so that you can find the perfect destination for your big day. From Mt. Shasta to Klamath National Forest to Burney Falls, you'll find a romantic and beautiful spot to share with your loved one. Read on to learn more about our favorite Northern California elopement packages and more!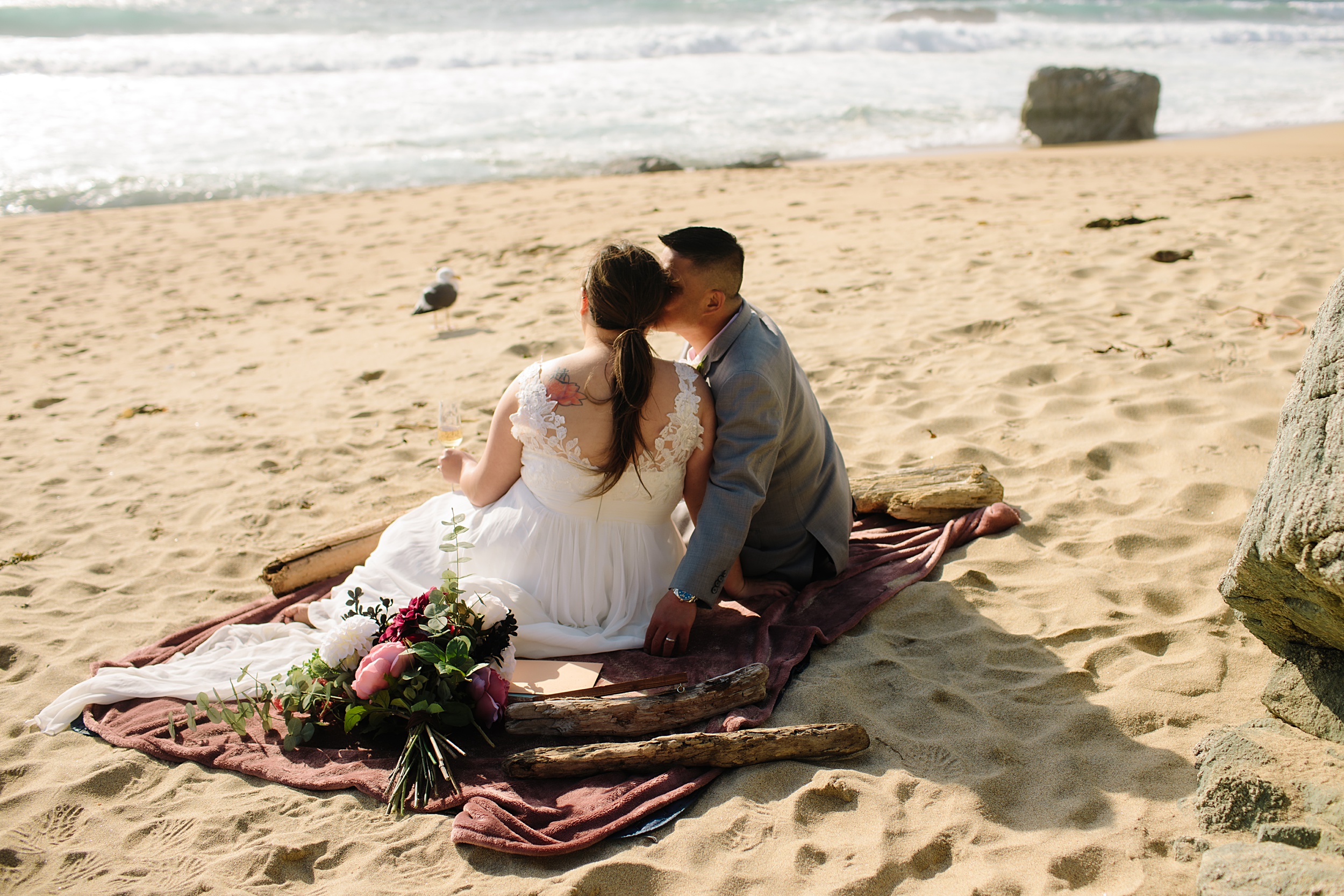 Where exactly is Northern California?
If you're from out of state or never set foot in California you may not know where Northern California is, so what does Northern California actually look like and where is it?
For locals, you'd consider Northern California to be the area around San Francisco but this has been a debate for many years amongst Californians. Is this truly considered Northern California, or is this central California? Make sure to check out this map as this would show more of an accurate representation of what Northern California is considered to be.
Northern California is filled with major cities such as Sacramento, San Francisco, San Jose, as well as Yosemite! And the best way to think of the difference between the two sides of California is that in Southern California, you'll find warmer beaches and deserts.
However, in Northern California, you'll find lakes, huge pines, and mountains, and you'll experience all four seasons! Both parts of California are great places to elope depending on your vision for the day!
From beautiful forests to gorgeous waterfalls, there's something for everyone!
What Are the Best Northern California Elopement Locations?
Are you planning your California elopement? If so, you'll want to know the best locations in Northern California for your special day.
For those looking for breathtaking views, Mt. Shasta is a great option. This majestic mountain offers stunning scenery and plenty of spots for pictures. Another great spot is the Klamath National Forest. The tranquil forest is full of lush foliage and breathtaking views, making it a great place to capture magical moments. Burney Falls is also a popular spot for eloping couples. The mesmerizing waterfall surrounded by towering trees and mossy rocks makes the perfect backdrop.
No matter the destination, a Northern California elopement is an unforgettable experience. Be sure to hire a reputable California elopement photographer to capture the special moments of your big day.
Mt. Shasta
Mt. Shasta is a stunning destination for eloping. It boasts stunning alpine forests and some of the best views in California. Plus, its proximity to many trails makes it perfect for couples looking to explore the wilderness together. Skiing is popular along the mountain, and nearby outdoor attractions such as scenic forest rivers are popular destinations.
Klamath National Forest
Klamath National Forest is another great destination for a Northern California elopement. This picturesque isolated landscape features dense forests and grassy meadows perfect for photos. With its scenic views and endless adventure, this is a must-see for any couple planning a California elopement package.
Burney Falls
Burney Falls is one of the most iconic destinations in Northern California. This majestic waterfall provides stunning scenery ideal for beautiful California elopement photography. With its crystal-clear water and breathtaking backdrops, this will be a memorable day for you and your partner.
Redwood National Park
Redwood National Park is a spectacular destination for those planning a California elopement. This stunning park encompasses an expanse of forests, meadows, and rivers. With towering redwoods and plenty of hiking trails, it's no surprise this park is a popular destination for couples who want to make their elopement unique.
Lake Tahoe
Lake Tahoe is a stunning location for a California elopement package. With breathtaking alpine lakes, beaches, and towering mountain peaks, it's the perfect backdrop for a romantic outdoor wedding. Couples can choose to have a traditional ceremony or something more adventurous like a helicopter wedding.
Big Sur is a gorgeous coastal region for a California elopement package. With rolling hills, crashing waves, and towering trees, Big Sur is one of the most breathtaking places to say I do. Whether you're looking for an intimate affair or an extravagant celebration, a California elopement photographer can capture your special day anywhere along this expansive location.
San Francisco
San Francisco is ideal for couples seeking stunning architecture and romantic vibes. This city is home to iconic sights and provides an unbeatable backdrop for an elopement. With its classic cable cars, the famous Golden Gate Bridge, and endless opportunities for unique wedding photography, San Francisco is the ideal place to start your journey together.
The Lost Coast
This breathtaking stretch of coastline offers some of the most stunning scenery in the state and is a photographer's dream. With its rugged cliffs, secluded coves, and dramatic sunsets, you can be sure that your California elopement photography will be truly remarkable. Whether you explore the majestic cliffs or stroll along the black sand beach, you'll find the perfect backdrop to capture the beauty of your special day.
Salt Point State Park
Salt Point State Park is the perfect destination for those looking for an outdoor adventure. With its dramatic coastline, sea stacks, and rugged cliffs, this Northern California park is a spectacular setting for a romantic and memorable ceremony. Spend quality time together exploring tide pools and coves as part of your California elopement photography session.
Santa Cruz
Santa Cruz is excellent for couples seeking a classical, coastal California atmosphere. The Santa Cruz Beach Boardwalk is a popular attraction, as are the many beach-front views of Monterey Bay. With picturesque beaches, towering redwood forests, and breathtaking views of the Pacific Ocean, this location has something for everyone.
Yosemite is one of the most iconic locations for a California elopement. Whether a small, intimate wedding ceremony in the valley or an adventurous trek to the top of Half Dome, Yosemite's stunning views and unique wildlife will make your special day unforgettable.
Trinidad
Trinidad is a stunning location for an intimate California elopement package, with its breathtaking landscapes, idyllic coastline, and rich history. Ten public beaches are located in the small seaside city, and cozy vacation rentals are typical along the shoreline. Enjoy the unique beauty of Trinidad and make your dreams a reality.
McCloud
McCloud is a popular spot for California elopement photographers, with dramatic mountains in the background and plenty of small-town charm. With its expansive meadows and forests, there are endless possibilities for a stunning and memorable elopement in McCloud.
What Are the Best Northern California Elopement Activities?
When planning your special day, you want to ensure everything is perfect. A California elopement package is an ideal way to ensure a memorable experience. From hiking to the top of a stunning mountain and exchanging vows to skiing down Mt. Shasta Ski Park, there are plenty of activities in Northern California that can create lasting memories.
For a truly unique experience, go on a waterfall tour. With plenty of waterfalls in the area, you and your partner can take a day trip and explore some of the most beautiful waterfalls in the region.
For a romantic escape, drive along the Pacific Coast Highway and explore some of the breathtaking views of Northern California. The route connects many beautiful destinations for outdoor activities, including Crescent City Pebble Beach and Point St. George Beach Trails, perfect for exploring the Northern California seaside with your partner. Capture the beauty of the ocean and the coastline with California elopement photography and keep your memories alive forever.
No matter what kind of experience you're looking for, a California elopement package will provide you with all the ingredients for an unforgettable day. Start planning your dream elopement today.
1. Exchange vows on a mountaintop 
2. Road Trip along the Pacific Coast Highway 
3. Go swimming in the nearby lakes 
4. Take a waterfall tour 
5. Spend the night at the Railroad Park Resort • Stargaze at Lake McCumber 
6. Take pictures with the Redwood National Park trees 
7. Go skiing at Mt. Shasta Ski Park 
Where Are the Best Places To Stay?
When planning your big day, you want to ensure it's as memorable as possible. A California elopement package is perfect for couples looking to celebrate their unique and intimate union. There are plenty of options, from stunning off-grid locations to ocean-side vacation rentals throughout Northern California. To help make your decision easier, here are some of the best places for couples to stay in Northern California:
• Modern Mountain Chalet. A white chalet with Scandinavian-style decor and a hot tub in Mt. Shasta.
• Half Moon Bay Home. This luxurious home features sweeping views of San Francisco's Halfmoon Bay.
• Dream House in the Redwoods. Located in the forest near the rugged coastline of Trinidad.
• Shasta A Frame Cabin with a View. A cozy Shasta Lake Airbnb with a stunning view of the trees.
How To Get a California Marriage License?
Once you've decided on your California elopement location, there are a few things to keep in mind when getting a marriage license. California marriage licenses are valid for 90 days. To apply, you'll need to download and complete a public or confidential marriage license application and schedule an appointment online to collect it and complete the process. Be sure to bring all necessary documents (ID, birth certificate, etc.) as well as $113 in cash, money order, or credit or debit card for the application fee.
Do I Need an Officiant and Witness to Elope in Northern California?
Once you have your license, you need an officiant and at least one witness (and believe it or not, your pet can sign your marriage license.) For those who don't want to hire a professional officiant, your friend or family member can officiate your ceremony by becoming ordained online for free. Jenn Whalen is also an ordained minister and can sign your marriage license. With a California elopement photographer by your side and a marriage license in hand, you're ready to embark on the exciting journey of getting married in beautiful Northern California.
When Should I Elope in Northern California?
When planning your California elopement, you need to consider the weather in the area where you plan to elope. In Northern California, the weather can vary depending on the season. If you're looking to elope in this beautiful part of the state, check out the weather beforehand and plan accordingly. You should also consider tourist crowds. Summer tends to be the busiest season in Northern California, and autumn may be less crowded in some areas.
What Season Is Best to Elope in Northern California?
From the breathtaking mountain landscapes and valleys of summer to the colorful rolling hills of spring, fall and winter, you'll find the perfect backdrop for your California elopement photography. Summer provides beautiful outdoor weddings with longer days and warmer weather, while spring is excellent for lush green surroundings and delicate blossoms. Fall is vibrant with colorful leaves, and winter brings misty snow-covered scenes with an added bit of romance. With an experienced California elopement photographer by your side, you'll get the perfect photos regardless of the season.
How to Plan Your Northern California Elopement
This is the fun part of, planning out your dream elopement day!
Think about what you want your elopement day to look like. Ask yourself what's most important to you. What do you want to incorporate into your day? Do you have any favorite locations or memories you've made together and how can you incorporate those details into your day? Do you like having new experiences and adventures? Seeing new places? Take the time to think and talk this over and find what your elopement day truly means to you both. This will help you narrow down where and what you want your Northern California elopement day to look like.
After gathering all the details and information for your elopement day such as the location, deciding on a date, and getting the proper permits, you'll want to prepare for your day and create a day of timeline!
What's so great about hiring a photographer is that many of them can also help you with this! Usually, couples tend to plan their day around the location they are planning on eloping at. Remember that your elopement day does not have to be short that's just a misconception! Many elopements are filled with multiple locations and activities throughout the day. Just because your wedding day isn't filled with hundreds of guests does not mean it's any less important.
Last but not least, celebrate!! The hard work is now over and the fun begins! You can now sit back and relax and live in the present moment taking in every single detail and celebrating how excited you are to start this new chapter together!
What Sets Jennifer Whalen Apart From Other Elopement Photographers?
Jennifer Whalen stands out from other California elopement photographers due to her personal touch in wedding photography. With a passion for capturing the real emotions of a couple's special day, Jennifer creates an unforgettable experience with her California elopement package. Jennifer captures all the beauty of the area in your photos, making sure to document your once-in-a-lifetime experience in stunning detail. Your California elopement photography will be something to treasure for a lifetime. From intimate beach weddings to breathtaking mountain views, Jennifer has the expertise and knowledge to deliver stunning photography that captures the unique beauty of each moment. With Jennifer's help, your elopement will be as unique and beautiful as you are. Not only that, but Jennifer is more than just a photographer she is also an ordained minister and elopement guide. She'll not only capture beautiful moments for you but she will also help you plan and be there every minute of your elopement day!
Ready to book your Northern California elopement photographer? Contact Jennifer through her online form!